Motori con una inusuale disposizione delle valvole.
Articolo pubblicato il
28-04-2016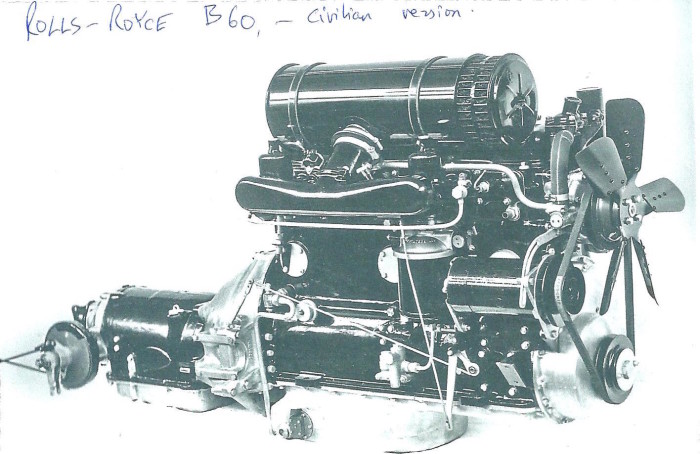 NICKY ARMSTRONG SEGNALA CHE NEL NUMERO DI RUOTECLASSICHE DI APRILE  E' PUBBLICATO UN ARTICOLO SULLA ROLLS ROYCE SILVER WRAITH IN CUI E' MENZIONATA LA DISPOSIZIONE DI VALVOLE IOE DEL MOTORE (F-head engine). CI FA PIACERE CHE QUESTO SOGGETTO SIA PORTATO IN EVIDENZA NELLA STAMPA SPECIALIZZATA PIU' DIFFUSA DOPO CHE NE AVEVAMO DIBATTUTO IN QUESTA COLONNA.
ARMSTRONG OSSERVA ANCHE CHE L'ARTICOLO PARLA DI QUESTA DISPOSIZIONE COME UN RITORNO A QUELLA ADOTTATA DALLA CASA INGLESE AGLI INZI DEL SECOLO XX. IN REALTA' SAPPIAMO CHE NON VI ERA STATA INTERRUZIONE NELLA PRODUZIONE DI QUESTI MOTORI, COME SI PUO' LEGGERE NEGLI INTERVENTI PRECEDENTI (qui sotto).
Nonostante la cessazione ufficiale della produzione di autovetture, lo stand O.M. al Salone dell'Automobile del 1934 presentava un nuovo modello in quattro esemplari: due berline, una trasformabile ed uno chassis nudo. Si trattava di una vettura completa in ogni dettaglio, quindi a priori non di una partecipazione di testimonianza. Come la vecchia "Superba", la vettura portava anch'essa un nome dannunziano: Alcyone.
Il motore era un sei cilindri di circa 2190cc, di buona potenza massima, con una disposizione di valvole quasi unica, con le valvole di aspirazione in testa e quelle di scarico laterali, una soluzione che permetteva l'utilizzo delle valvole O.M. di grande diametro ed era teoricamente favorevole al rendimento termico del motore.
Nel libro O.M. (Fondazione Negri, 2013) scrissi che "si parla di solo altri due esempi conosciuti in tutta la storia della automobile, dei quali nessuno entrò in produzione".
Un lettore mi ha fatto recentemente osservare che questo tipo di motore fu usato dalla Rolls Royce dal 1904 fino al 1986! La disposizione era denominata "IOE", inlet over exhaust, e il motore tipo B60 che la adottava fu usato per decenni anche per uso militare e montato sulle berline Silver Shadow Mark I e II.
Penso che aver riportato acriticamente l'affermazione di cui sopra da un articolo scritto da un noto e rispettato storico italiano dell'automobile non costituisca una scusa sufficiente e mi scuso per questo. Evidentemente non ho interpretato che egli si riferiva probabilmente alle automobili italiane senza dirlo.
La domanda: sono noti altri esempi di vetture il cui motore ha questa caratteristica disposizione delle valvole? (esclusi i veicoli industriali, per cui la risposta affermativa è nota)
Despite having officially ceased the production of motorcars, the O.M. displayed in the Salone dell'Automobile of 1934 a new model in four examples: two saloons, a convertible and a bare chassis. It was a complete car in every detail, and it did not look, in principle, having been made just to prove that O.M. could still build motorcars. As did the old "Superba", the new car had been christened in d'Annunzio's vein: Alcyone.
The engine was a 6-cylinder of a capacity of about 2190cc; it had a decent maximum power and a peculiar layout with side exhaust and overhead inlet valves.
This solution made possible the use of the O.M. valves of large diameter and was theoretically favourable to the thermal efficiency of the engine.
I wrote in the book O.M. (Fondazione Negri 2013) "it seems that there are only two other known examples of this layout in automobile history, and none of them went into production".
A reader of this book has recently remarked to me that Rolls Royce used this valve layout (IOE) from 1904 until 1986! Its engine type B60 had been used for decades also for military use besides being mounted in the Silver Shadows Mark I and II.
I think that having uncritically reported what had been written by a wellknown and respected Italian motoring historian is not enough to be justified. Clearly he was referring to the Italian car manufacture but without saying it and I have misinterpretated.
The question is: Are there other known motorcars that went into production with a IOE valve layout? (industrial vehicles are known to exist).